THE STOP & SHOP PEDIATRIC BRAIN TUMOR & NEURO-ONCOLOGY OUTCOMES CLINIC AT THE DANA FARBER/JIMMY FUND CLINIC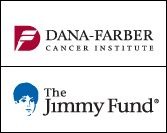 The primary recipient of KPJ funds, the Pediatric Brain Tumor Program at the Jimmy Fund Clinic is one of the world's premier centers for both treatment and research of brain tumors in children. Under the direction of
Dr. Mark Kieran
, patients from down the street and around the world benefit from the cutting edge research and treatment protocols developed at the Dana-Farber Cancer Institute.
WALTER J PATON ELEMENTARY SCHOOL

Paton, the school Kyle and brother Sam attended, receives annual grants from the fund. Through your generosity, Paton Elementary has received over $25,000 which has been used create educational opportunities for students which would otherwise not have been possible. Paton consistently ranks among the top elementary schools in the state in MCAS student scores. Way to go Paton!!